Skip to Main Content
It looks like you're using Internet Explorer 11 or older. This website works best with modern browsers such as the latest versions of Chrome, Firefox, Safari, and Edge. If you continue with this browser, you may see unexpected results.
How to register to vote and verify that you are registered to vote
Register to vote online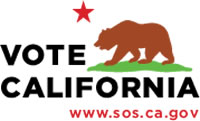 Upcoming elections

Find out when the next election is on this California Secretary of State website.

Register to vote online

To register online you will need your California driver license or California identification card number, the last four digits of your social security number and your date of birth. Your information will be provided to the California Department of Motor Vehicles to retrieve a copy of your DMV signature. If you do not have a California driver license or California identification card, you can still use this form to apply to register to vote by completing the online interview by 11:59:59 p.m. Pacific Time on the 15th calendar day before an election.
San Mateo County vote centers

You may visit any of the following accessible Vote Centers in San Mateo County to register to vote, vote in person, return a voted ballot or request a replacement ballot:
Redwood City Assessor-County Clerk-Recorder, 555 County Government Center, Redwood City.
San Mateo Registration & Elections Division, 40 Tower Road, San Mateo.
South San Francisco Main Library, 840 West Orange Ave., South San Francisco.
What's on your ballot?
The next presidential election is November 5, 2024.
Elections between presidential elections are called "midterm" elections.
On the ballot are many local measures that determine whether there is money to fix roads on your neighborhood or add to your local schools. As big an impact as the outcome of a presidential election has, all elections include state propositions and local measures that affect whether you have rent control or are paying more fees to register your car.
To find out what you and your neighbors are voting for, you will have to read the fine print. Each proposition or measure is outlined with pro and con arguments as well as a neutral analysis.